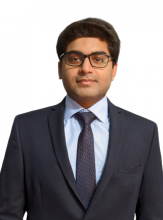 Batch: 2020-22
MBA
IIM Sirmaur instills a feeling of pride in my mind and soul. The most memorable moments were the sleepless nights while doing tasks during student body selection, academics, and participating in different competitions. These things helped me bond with people, and I will cherish this bond forever. Being part of different student bodies helped me learn about organizing events, team management, and other basics of management that the books can't teach. But the time spent on the campus is worth remembering. Being the Sports secretary, I handled multiple stakeholders. I got hands-on experience in different domains such as social media marketing, drafting the budget, approvals from admin, quotations, procurement, etc. Such opportunities were presented to me by IIM Sirmaur and I would be forever grateful for them.
Even in the time of the Pandemic, I never felt my education was compromised. The infrastructure was scaled up to accommodate the needs of the students and the demands of the situation. Such was the flexibility and the support of faculty and administration.
MBA was my ambition and it has been my privilege to be a part of the IIM Sirmaur fraternity.